If you are planning your wedding for late October, you may wish to consider a Halloween themed wedding!
All Hallows Eve and weddings don't initially appear hugely compatible, but imagine an autumnal wedding with softly glowing candles, carved jack-o-lanterns and vibrant flowers on a still moonlit night and you might begin to see the possibilities!
The secret is to keep the theme elegant and yet warm, and avoid the overtly macabre trappings of a normal Halloween celebration. Here are a few ideas to add some elegance  and sparkle into your autumnal 'Halloween' wedding…
Halloween Theme Wedding Ideas
Wedding Colour Scheme
The obvious colours are orange and black, but don't forget you can also include dark browns, creams, copper and gold. These colours can work wonderfully for all your styling, from tablecentres, decorations, invitations – even your cake!
Decorations
Centerpieces and decorations could range from candles in wrought iron candelabras, pumpkins carved into jack-o-lanternsor for a more elegant and autumnal wedding you could opt for leaves and berries arranged into a centerpiece. Depending on your taste you could even incorporate some delicate spider webs or other fun Halloween items into your wedding tablescapes or even your bouquet!
We loved these fun yet incredibly elegant 'nightmarish nibbles' tags from Etsy!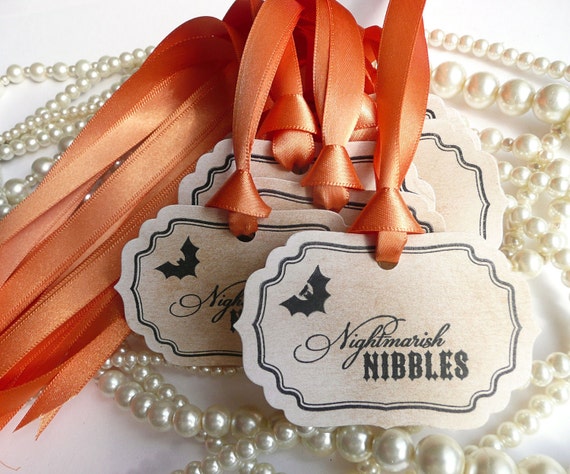 Invitations
Orange and black invitations can look very chic, especially when embossed with images of pumpkins!
For a more understated look, opt for an ivory invitation with gold ink and tie an organza or chiffon bow (black or orange) tied around it.
Menu
Pumpkin isn't just for decorative purposes, so how about Pumpkin risotto , Pumpkin soup or even dark chocolate and pumpkin cheesecake! A Halloween themed Candy Cart can also look spectacular!

And don't forget, Halloween is a great theme for having fun and keeping the children amused too!
Would you consider a Halloween wedding, we'd love to hear your thoughts!
Category: Wedding Color & Theme Ideas